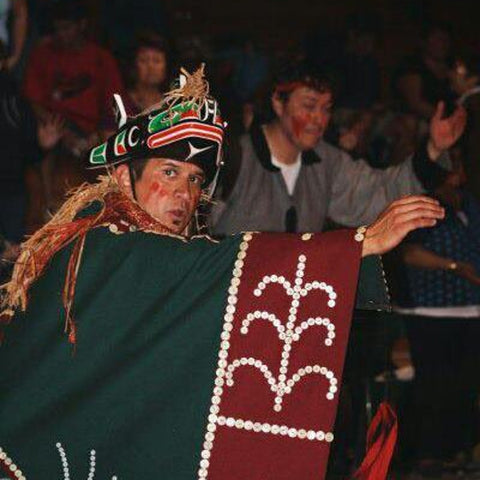 William was born in Alert Bay, on the northern tip of Vancouver Island, on June 23 1974. He is part of the "Namgis" First Nation. He was raised by his parents, Karen & Willie Cook, who come from very large families. William was raised in the Kwakawaka'wakw tradition by his grandparents, Florence and Gus Matilpi, who he thanks for his cultural education. William has a few native names: "Malidzas" is his everyday name, and "Tanis" is his name as a dancer.
William comes from a family of artists: his brother is established artist Rande Cook, and his niece is emerging artist Jazmine McCrimmon-Cook. He learned how to draw as a young man through Fran Dick and his grandpa Gus. At the age of 19 he started to carve jewellery. His influences include Patty Seaweed and Henry Nelson.
William married Debbie on February 23rd 2008 in a Longhouse, where they had a traditional Kwaguith wedding. William lives in Victoria with his family.
William is primarily a jeweler, but he began creating cedar panels in 2013.