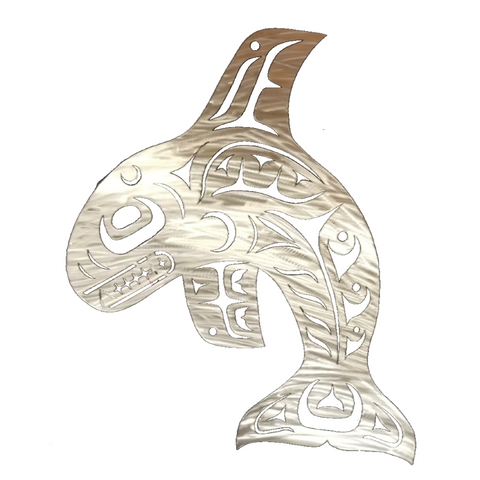 Trevor was born and raised on Haida Gwaii. His mother's family is Cree from Sweetgrass, Saskatchewan, French and Irish. His father's family is Gitxsan, English and Scottish. Trevor grew up fishing, hunting, camping, and enjoying being close to nature and in a tight knit community.
When Trevor was 18 he moved to Vancouver to focus on creative writing, and eventually turned his creative focus towards music.
After spending 15 years in Vancouver and starting a family, he settled in the Cowichan Valley and focused on visual art. He apprenticed under Coast Salish artist Herb Rice, learning the craft of wood carving, working on plaques and totems. After a couple of years Trevor started to develop his own style, which draws from his own experience of growing up around Haida art; living in Duncan, the "City of Totems", which provided many different examples of different carving styles; and studying different styles up and down the coast.
Trevor is working to develop a unique style that draws from tradition, yet pushes the boundaries of the form into new places. This is a tricky thing to do, to keep the feel and to respect the lineages that brought this style to us over time, while challenging the way that we think and look at the art form. As someone of mixed heritage, he tries to keep the spirit of Northwest art while using modern mediums and innovation to bring it to new places.