Sold out
Sold out
Sold out
Sold out
Sold out
Sold out
Sold out
Sold out
Sold out
Sold out
Sold out
Sold out
Sold out
Sold out
Sold out
Sold out
Sold out
Sold out
Sold out
Sold out
Sold out
Ring - Wolf (Sterling Silver with 14k Gold Rails)
David Neel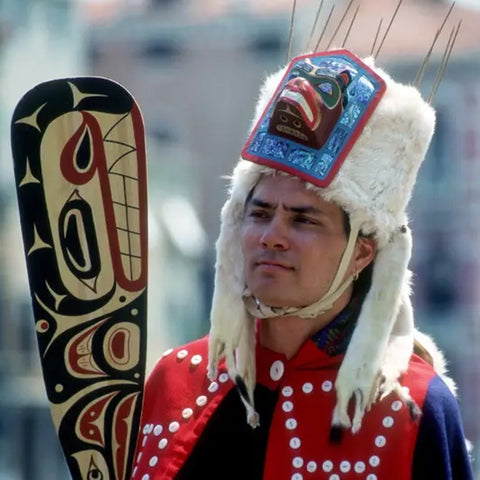 David Neel's crests are Thunderbird and Killerwhale. He comes from a family that is rich in history and artistic skill. His father is Dave Neel Sr., his great uncle is acclaimed artist Mungo Martin, his great-great-great grandfather is Charlie James, and his grandmother is renowned artist Ellen Neel. His widely exhibited work includes jewellery, masks, drums, poles, original paintings, limited edition prints, glass etching, regalia, and photos appearing in several magazines.
David's formal training in Fine Arts was at the University of Kansas and at Mount Royal College, Alberta. Following a career as a professional photographer in Texas, David returned to Canada in the early 1990s, and conceived two important projects: one documenting works and images of First Nations elders, and the other promoting the revival of the Northwest Coast great dugout canoe.
David's talents are diverse, and he is dedicated to promoting and preserving his Kwakwaka'wakw heritage. In 2019, he was featured in the landmark publication Understanding Northwest Coast Indigenous Jewelry by author Alex Dawkins. In 2020, he published his own book titled The Way Home which was nominated for the Hilary Weston Writers' Trust Prize for Nonfiction.