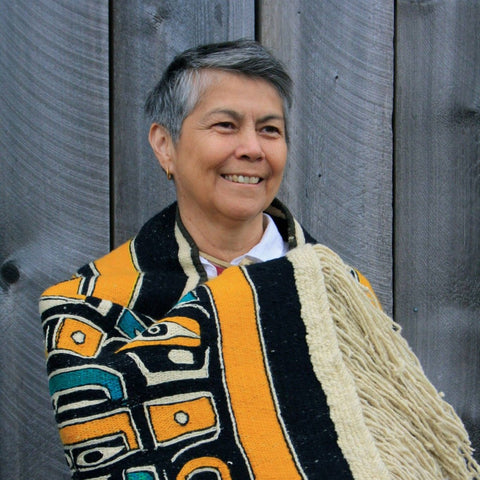 Born in Alert Bay British Columbia in 1959, Corrine has been creating contemporary art that reflects the themes and traditions of her First Nations kwakwa̱ka̱'wakw
and Tlingit heritage since 1985.
Corrine's works include engraved gold and silver jewelry and accessories, custom furnishings in carved stainless steel and reclaimed wood, modern totem poles and other sculptural installations.
A member of the Raven Gwa'wina clan from Ts'akis, a Kwakwa̱ka̱'wakw village on Vancouver Island, Corrine's rich family history includes internationally renowned First Nations artists Henry, Richard and Tony Hunt, all of whom have influenced her art. Her maternal uncle, Norman Brotchie, piqued her interest with his beautiful hand carved jewellery and was instrumental in introducing her to the Kwakwaka'waka art history. Corrine too has mentored First Nations and other artists and continues to be a strong and vocal supporter of the arts in British Columbia.
From the beginning of her career engraving rings, bracelets, pendants and broaches, Corrine has searched for unique ways to bring the stories of her First Nations culture to contemporary life. "I want to show how both the First Nations people and the art have evolved," she explains.
In that process, she is continually inventing and reinventing stories from her culture, honouring her roots and cultivating a refreshing artistic expression at the same time. The results are extraordinary pieces that are both ageless and contemporary. The engravings are not overly ornate; like poetry, they convey their message using as few lines as possible.
Similarly, the custom furnishings combine materials that speak to old and new, and bring the concept of living culture into contemporary homes. Corrine began designing furniture and other installed art pieces in part because in First Nations households, adorned furnishings are part of daily life. Objects in the home are not only beautiful, they are also practical and infused with cultural significance.
Corrine's work is internationally recognized and celebrated. She designed the art for the 2010 Vancouver Olympic and Paralympic medals. In 2017, the British Museum commissioned a piece from Corrine entitled "Object: Air meets Water" for their "Where the Thunderbird Lives" exhibition of Northwest Coast art and cultures.